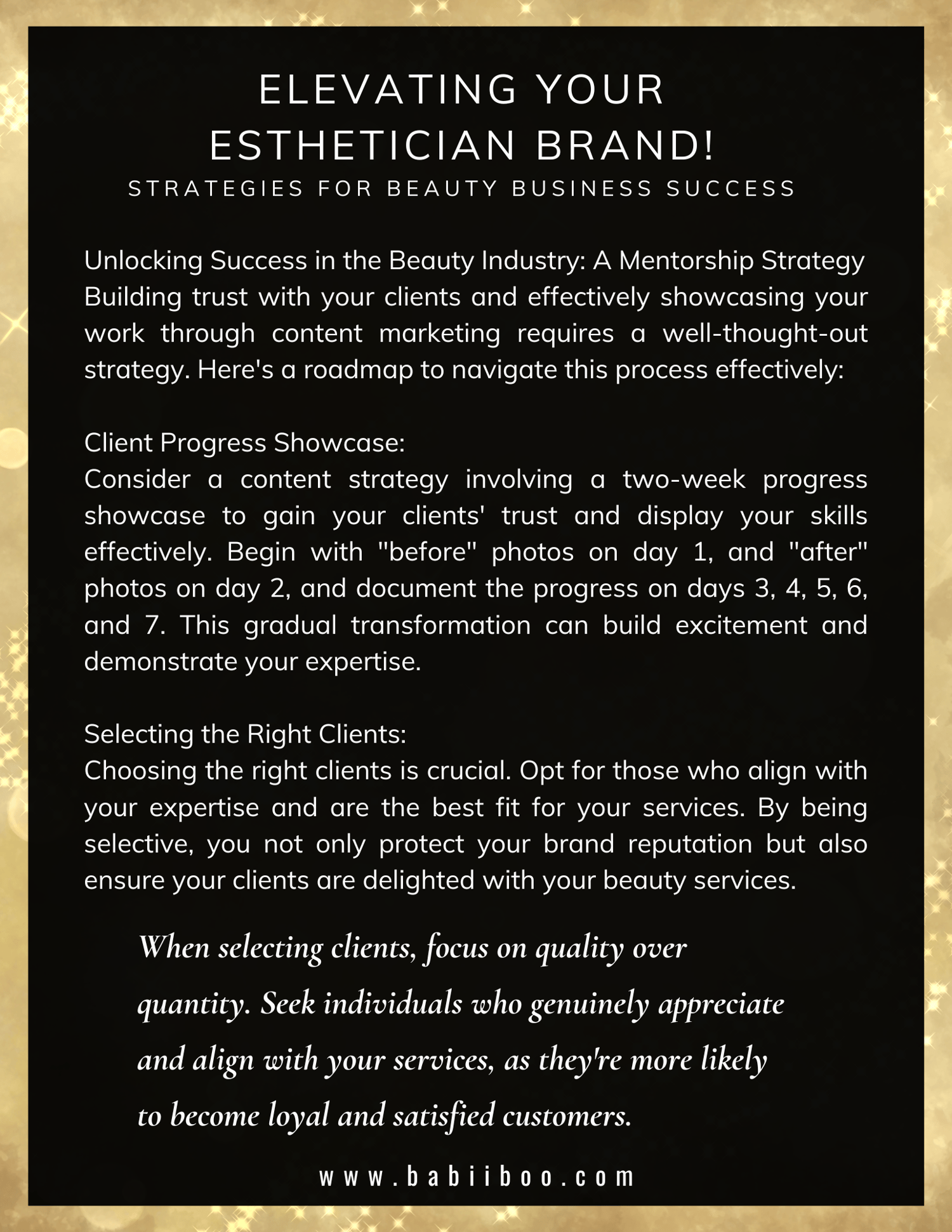 Secrets of Successful Estheticians eBook Part 1
This comprehensive eBook has a total of 54 pages of valuable information to help estheticians become successful in business. You'll receive a downloadable PDF file, making it easy to access the eBook at your convenience. Thank you for considering this eBook, and I look forward to helping you achieve your career goals in the beauty industry.
Dear Estheticians,
Are you ready to take your beauty business to new heights? I understand the challenges and aspirations of aspiring and established estheticians in the beauty industry. That's why I'm excited to offer you a valuable resource that can transform your journey to success.
Introducing my latest eBook, "Secrets of Successful Estheticians: Strategies for Beauty Business Success." This comprehensive guide is your blueprint to achieving financial excellence while leveling up your mindset for a prosperous future.
Inside this eBook, you'll find a treasure trove of knowledge and guidance, including:
- Business advice tailored to the beauty industry
- Legal support advice to navigate any business situation
- Mentorship tips for both mentors and mentees
- Strategies to conquer beauty industry challenges
- Virtual consultation rate recommendations
- Techniques to attract your ideal target audience
- Collaboration insights with successful beauty entrepreneurs
- Online business tools for efficiency and productivity
- Strategies for content creation and social media marketing
- Guidance on lawyers and CPAs for business support
- Expanding your business and revenue both online and in-person
- Dealing with chargebacks effectively
- Building trust in your mentorship relationships
- Expanding your mentorship opportunities
- Navigating financial issues and IRS concerns
- 12 consent form examples to ensure legal protection
- Insights into business etiquette and exceptional customer service
- Attracting high-paying clients to your services and products
- Leveraging digital products and marketing platforms
- Crafting aesthetically pleasing social media profiles
- Marketing scripts for both online and in-person channels
- Motivation and inspiration for your journey in the beauty industry
Elevate your brand, enhance your mindset, and embrace the path to success. Your journey in the beauty industry deserves nothing but the best, and "Secrets of Successful Estheticians" is here to empower you on that path.
Don't miss out on this opportunity to excel in the beauty business.
Wishing you a successful and prosperous journey in the beauty industry.
Tell your fellow estheticians about this amazing ebook that can also help them with their endeavors in life in the beauty industry.
Warm regards,
Your Beauty Business Strategist & Mentor
-Babiiboo-
Email:
Contactbabiiboo@gmail.com
I recommend downloading this eBook on your laptop. Like that you can be able to zoom into it while you read.
Refund Policies:
Final Sale, No refunds.